Knowledge is Power!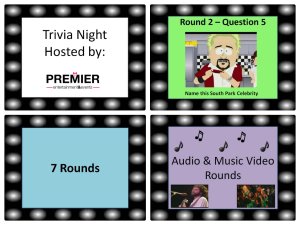 Do you like Trivial Pursuit? Imagine visual Trivial Pursuit with questions, pictures, videos and music. That's what pub style trivia is all about. Trivia will keep your patrons entertained, engaged and coming back week after week. It will turn an ordinary weeknight into one of your busiest.
Each trivia night is a 2 hour event with exciting new questions and categories. Let us choose the categories or you can choose them yourself. Our Trivia is broadcast onto TV or projector screens throughout the room for all to see.The sound can be hooked up to your establishments speakers or through our high quality PA system.
Our emcee's are witty and knowledgeable about each weekly trivia. Each round features a winner who chooses an available prize. The team with the most points after seven rounds is the grand prize winner.